Freshmen talk first-year favorites, look toward sophomore years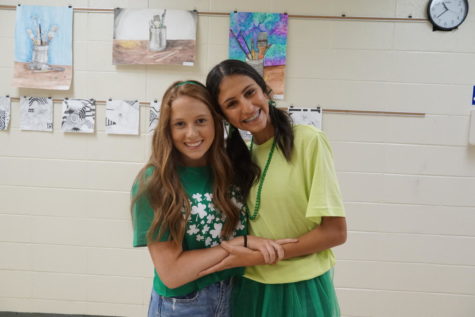 As the year comes to a close, it seemed appropriate to take some time to ask some of the freshman here at Chelsea High School how they felt about this week.
The Buzz caught up with two ninth graders to ask them how they felt about prep rallies, dances, homecoming activities, football games, sporting events, and more.
Lana Yousif, a freshman cheerleader spoke to us about her favorite part of her freshman year.
"I loved the new atmosphere of high school and the transition from middle to high school," Yousif said. "I loved the friends I have made and I loved the whole aspect of football and pep rallies."
Fellow freshman Sydney Roberts, also a member of the CHHS cheer squad, echoed her thoughts.
"I loved making the friends I have now and I love making fun memories with the girls on the cheer team," Roberts said.
One adjustment for freshmen comes in the classroom, and each of the girls gave their thoughts on their favorite class.
"I loved learning french this year but my favorite class was definitely 8th period cheer," Yousif said. "I loved making friendships with the girls on the team and in that class period we have all gotten closer."
For Roberts, her best moments were because of the people moreso than the content of the course.
"I love the classes I have my best friends in," she said. "I love both 8th period cheer and 4th period crafts. I love being surrounded by the people I care about."
Lastly, the girls were asked about something they are looking forward to next year.
"I am really excited to get back into the football and homecoming season," Yousif said. "I love cheering for the games and activities we do around that time of year."
"I am looking forward to football season and making more memories with my friends," Roberts added.