Coach Stuart Morrison is a teacher and coach at Chelsea High School. The Buzz was able to ask him some questions. Read below to find out what he has to say.
---
Chelsea Buzz: Why did you choose to become a teacher?
Stuart Morrison: I really like to see people succeed. I feel like bringing a positive attitude and expressing that to others is part of my spiritual gift. If others know you truly care about them, that expression spreads amongst groups. Everyday I tell my personal kids, "Be a Leader, and W.I.N. the day"
CB: What's the most challenging thing about being a teacher?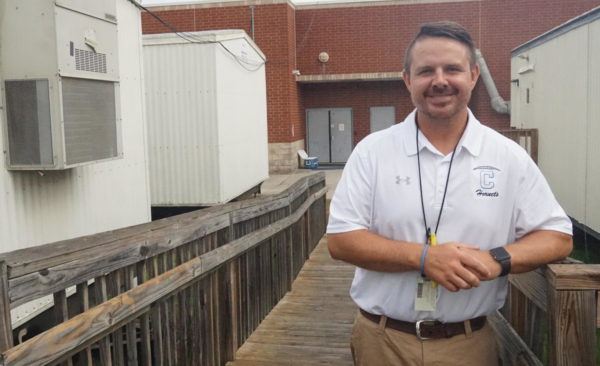 SM:  The most challenging about teaching is the paperwork and learning new technology/programs
CB: What is a life lesson you have learned from teaching?
SM: Kids/students don't care about what you know or what you are teaching them until they know you care about them. 100%
CB: If you weren't a teacher, what job would you have?
SM: My original plan was to go to West Point and become a military lawyer. So, probably something to do with law.
CB: What is one thing on your bucket list?why?
SM: My family is Scotch-Irish, so I have always wanted to go to Scotland and Ireland.
CB: What type of student were you in high school
SM: I was mostly an A student. I did not take notes well. I had the ability to sit in a lecture/class and listen and understand the teacher. I rarely got in trouble and was a favorite for my teachers in class.
CB: Where did you go to college?
SM: Undergrad-Jacksonville State University and for my  Masters- University of Alabama-Birmingham
CB: What's your dream vacation?
SM: Over the water all inclusive resort in the Maldives, visit Rome and other parts of Italy, anywhere in the Caribbean
CB: If you could have one superpower what would it be?
SM: The ability to know what others are thinking.
CB: How long have you been teaching at Chelsea?
SM: This is starting my 2nd year at Chelsea, my 16th year overall.
CB: What's your favorite color?
SM: Chelsea Hornet Blue
CB: What high school did you go to?
SM: Oxford High School, Class of 2003