The Halloween season is all about costumes, scary movies, trick-or-treating, and haunted houses. These activities are fun, but what many people love most of all about the holiday is the candy! Even if you no longer go out and trick-or-treat, many still love to indulge in the decadent, sugary goods, and use Halloween as their excuse.
But with so many different options to choose from, which one is considered the best? What's the best candy to hand out to trick-or-treaters this year? The Buzz asked students around Chelsea about which Halloween candy was their favorite, and these were the results.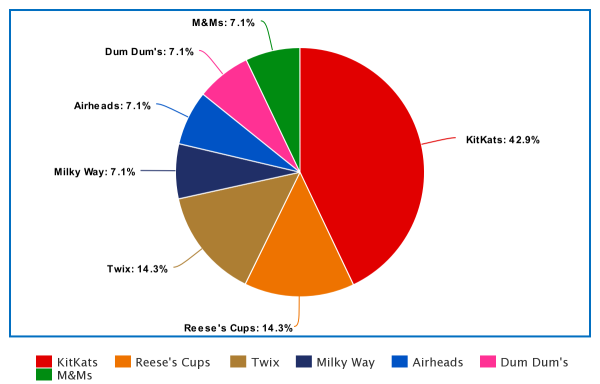 Overall, chocolate proved to be more popular than non-chocolate candies. More people voted for chocolates compared to other candies.
According to the data we collected, KitKats are the most popular Halloween candy among Chelsea students. The wafer chocolate received an overwhelming 42.9% of the votes, which is more than any other candy received.
Reese's Cups and Twix bars tied for second place, each getting 14.3% of the votes. These chocolates were the second most popular, and rightfully so!
The remaining 28.4% were split between M&Ms, Dum-Dums, AirHeads, and Milky Way chocolates.
Overall, KitKats proved to be the most popular candy amongst Chelsea students, and understandably so. The light wafer coated in rich chocolate offers a sweet and satisfying crunchy treat for many.
Whether KitKat's are your favorite as well, or you'd prefer a different sweet treat, make sure to have fun and stay safe during Halloween, as we participate in spooky activities and indulge in our favorite confectionery treats!