Cole Hodgens is a junior who plays football at Chelsea High School. The Buzz was lucky enough to have Hodgens agree to answer questions about his football journey.
---
Chelsea Buzz: What inspired you to become a football player?
Cole Hodgens: When I was a kid I always wanted to play football because the players on TV looked so cool. So when I got the opportunity to play in middle school and high school I decided to play.
CB: What do you enjoy most about playing football?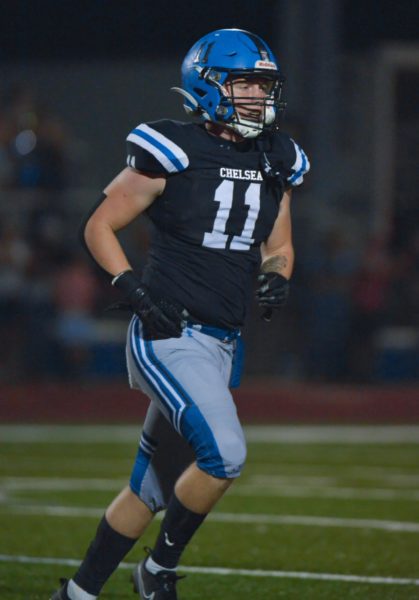 Hodgens: The thing I enjoy the most about football is being on the field while the stands are cheering for you. It gives me a rush I can't explain.
CB: What do you think it takes to be a successful football player?
Hodgens: For me, it took a lot of hard work and dedication. Waking up to go to the 5:30 AM practices is not fun, but it does pay off in the end. Coach Cassity really pushed me to get to the level I am at and I thank him for that.
CB: What advice would you give someone wanting to become a football player?
Hodgens: I would tell them to have fun with the game. Just keep going no matter how hard it gets.
CB: What position do you play?
Hodgens: I play Running back and Outside linebacker.
CB: What is one of your weaknesses in football?
Hodgens: One of my weaknesses is when I mess up on the field I get mad and after I get mad I don't feel like doing good on the field.
Hodgens worked hard to get to where he is and is trying to work harder to get to a college level. He and the other players on the team train for hours to try and win the Friday night game. Next time you see a Chelsea football player congratulate them for their hard work and dedication in trying to make a better team.