Talking BLM with Chelsea students
Q: How do you feel about the Black Lives Matter and what they're protesting for? Why?
————-
A: "I feel that they have their reasons and right to the protesting. It's also saddens me though to think that people feel oppressed in that way. I hope that they can find their peace and comfort because no one should feel like they matter less than anyone else. They deserve to feel equal and if they honestly don't, they are doing the right thing." — Katy Nail 10th
————-
A: "I agree with it. They got a right, they got a reason to do it." — Wendy Torres 11th
————-
A: "I personally think it's a good cause but they're focusing on the wrong subject to put anger on. Every race gets shot by cops so it's not fair for people to say that blacks are being targeted. Yes, black lives do matter, but people shouldn't get offended when people say all lives matter. They're focused on the fact that black people are getting hurt that they do not realize that they are maliciously attacking everyone including innocent people just because they're a cop. Cops are here to keep you safe, and yes, while there are bad cops in this world, most cops do not fire at you unless you're in danger. If you are going to try to make a protest at least be in the laws of the constitution and have it be peaceful and safe." — Gracie Livingston 11th
————-
A: "To be honest, I don't know how I feel about it. I think it was fine to an extent. Black lives matter has passed a point of peaceful and trying to cause equality. So I think all of the protesting is unnecessary especially if they're protesting against All lives matter. There's no point." — Car'Dajah Burns 11th
————-
A: "I feel that they are doing something for a good cause we have seen many occasions where black lives have been taken for some injustice. I feel like if this was happening to whites maybe more people would be doing something about it. And since the protests, I think it's progressing but not as fast as people would like it to." — Fatima Maldonado 11th
————-
A: "I support and encourage the black lives matter movement. I believe that in this day of age cops get carried away with power. I honestly think that this is part of the stereotypes that blacks have but it is the cops fault for acting upon fear instead of waiting to see what happens. Also I think the term black lives matter refers to black lives being equal to other races." — Kennedy Edwards 10th
————-
A: "I haven't really heard much about it because I'm not up to date with real world problems." — Maya 10th
————-
A: "Amazing that a race that has been treated horribly in the past is now standing up for their in equality and hopefully this time around they'll listen." — Alexis 11th
————-
A: "I feel it's a good thing blacks have a right to stand up and say we're not being ignored anymore, I'm glad we have black lives matter." — Christine Hodgens 11th
About the Writer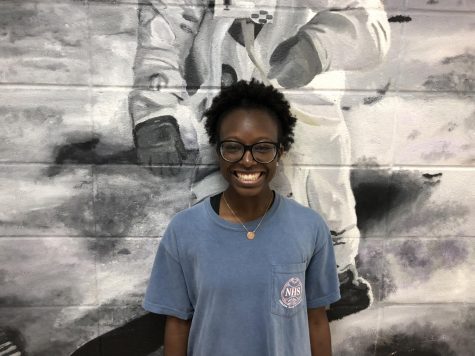 Nakia Coleman, Buzz News Reporter
Nakia Coleman, a senior at Chelsea High School, is an ambitious student who aspires to change the world. She decides doing this by either saving lives...