A Work of Heart
Winter Guard starts season strong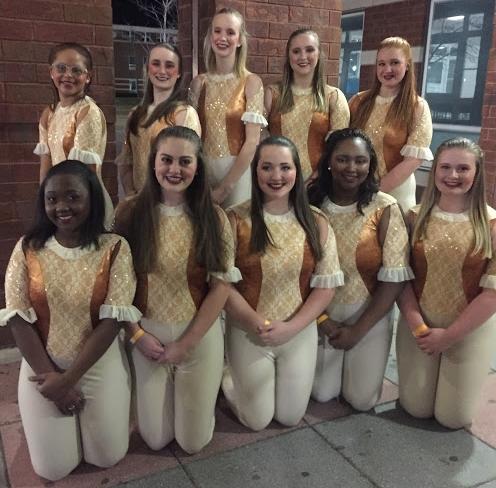 Thump.
This is it.
Thump.
This is what we have been practicing for for weeks.
Thump.
I am not going to mess up.
Thump.
I will not drop.
Thump.
I will not pass out.
Thump.
I will perform and I will shine. Remember to smile."
This mantra is commonplace within the minds of all those who participate in Winter Guard. This same mantra filled the minds of the participants of the Winter Odyssey, a winter guard competition at Hoover High School, including the minds of our very own Chelsea High Winter Guard.
Chelsea High Winter Guard began practicing as soon as marching band (and football season) ended. Practicing for three to even eight hours once, the guard has been practicing non-stop for competition season. Coaches Elizabeth Gargus and Kelsey Paris have been arranging, writing, and teaching this show for months, while supervisors Mrs. Bonnie Montgomery and Mrs. Dawn Dixon have been handling all behind the scenes work.
On Saturday, February 4, 2017, the show and their hard work came alive. Before the show, senior member Jayanna Washington felt like she "wanted to explode with excitement and a touch of fear". The anticipation of finally showcasing all their hard work and dedication, their tears and blood, flowed out of the members  and onto the floor.
Their show, titled "A Work of Heart", is about being proud of one's own artwork. Performed on a floor showcasing a portion of the ceiling from the Sistine Chapel and wearing beautiful uniforms, the Chelsea High Winter Guard went out and performed their own work of art.
After the performance, member Taylor Cherry was still on her "natural high. The feeling of excitement and fear and like you are flying yet falling all at once" was still rushing through her body, making her heart beat ten times faster.
Rookie member Tatianya Ruffin commented that her first performance with the chelsea High Winter Guard was "very exciting, I felt like my spirit had jumped out of my body and was dancing".
Chelsea High Winter Guard placed second in their class. Listening to the classical music and seeing the flags and weapons give life to the music and message, one cannot help but think that the shows title could not be anymore perfect. It truly is a work of heart.