"Closer" grows Chainsmokers in popularity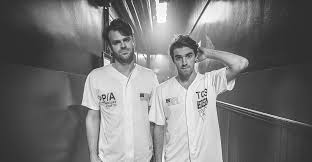 The Chainsmokers are becoming more popular with their number one single "Closer," featuring Halsey.
"Closer" reached number one on the top 100 hit music playlist, and that's where it will stay for a long while with its catchy lyrics. Breaking down the lyrics, Andrew Taggart of the Chainsmokers, tells a story of seeing an ex-girlfriend and is taken back into the past to when they were together. Being young, they were financially unstable and the relationship ended from his drinking problem. He moved into the city where he four years later with no contact sees his ex in a hotel bar doing much better then when they were together. The reunion of the two brings up only the good memories of the relationship and looking back they couldn't remember why they broke up.
The Chainsmokers are a duo formed in New York City in 2012. The current members, Andrew Taggart and Alex Pall, were not the original Chainsmokers, however. Taggart used to work with Rhett Bixler, and both started out as DJ's. In 2014, they created the song "Selfie," which reached number 15 on the top 100. Bixler has since left the Chainsmokers.