Sweet Tea Trio performs for CHHS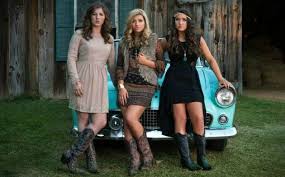 Sweet Tea Trio, a country music trio from three different parts of the state, performed Tuesday afternoon for the student body of Chelsea High School.
The group, which features a former Chelsea student, Savannah Coker, along with Kate Falcon and Victoria Camp, all 18, brought their talents to the school auditorium as part of Chelsea's spirit week. Spirit week will culminate with Friday's football game against Helena and homecoming dance to follow.
Chelsea students were treated to the concert thanks to the efforts of Chelsea Tire Pros, one of several local businesses who are "Friends of Chelsea High School." Tickets to the event were $5, and the show took place during an afternoon activity period as part of the pep-rally schedule.
Other events happening this week include the Donut Dash, the student-faculty volleyball game, and the Mrs. Husky beauty pageant.