Chelsea auxiliary says goodbye to the 2021 season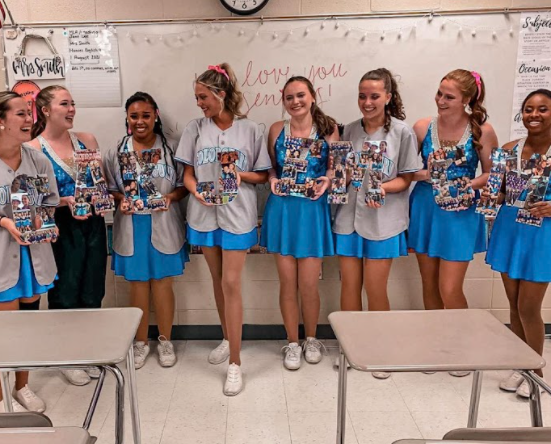 As the 2021 Chelsea High School football season comes to an end, the color guard and Stingettes also have to say goodbye to the season.
When you are on any type of team, your teammates quickly become like family. Having to say goodbye to the last four years of your life is a difficult task but it has to be done.
The Chelsea color guard had eight seniors this year. These seniors include Gabriella Anderson, Ava Haigler, Madelyn Cargisle, Grier Reed, Kennedy Lewis, Maquayla Walker, Emma Eggler, and Jesslyn Pendley.
The Stingettes danceline had two seniors and the majorettes also have two. These seniors are Emmalyn Miller, Mallory Nabors, Phoebe Black, and Natalee Norwood. 
All of the leadership on the teams are currently seniors and each team will be losing their captains. Gracie Streelman, a member of color guard, mentions her time with Gabriella Anderson, the color guard captain.
"Gabriella is the best captain we've ever had," Streelman said. "She leads the team with excellence and sets a great example for how you should treat others! She has been a mentor to me for the past 3 years and I wish I didn't have to see the team without her."
After four years of committing to a team, saying goodbye can seem impossible. These seniors have been on this team for almost a fourth of their life and it can end in one night.
This year, the Chelsea High School football team went to the first round of playoffs so the seniors got to perform an extra game. They also had senior night to celebrate their last game at the Chelsea High School football stadium. The Stingettes went to a team dinner at Station 31 Kitchen to honor and celebrate their seniors. Chelsea's color guard made journals for their seniors filled with memories for the last four seasons. 
"Reading those journals meant the world to me," Gabriella Anderson said. "Reliving my entire high school career brought back so many memories. I still can't believe that my color guard career at Chelsea is over."
The seniors have put many hours of their lives into these teams for the past 4 years. They've performed at competitions, winning in a majority of them and football games all around the state. 
"I still remember my freshman year show. The theme was the Greatest Showman. Our team was filled with mostly new members and overcoming those difficulties was exhausting but so worth it," Anderson said. "Seeing how much I've grown over the last four years is insane to think about and I wouldn't change it for the world!"
The Chelsea auxiliary will miss the senior class of 2022 greatly and cannot wait to see what the future holds for them!