Mrs. Smith transitions into AP Lang for new school year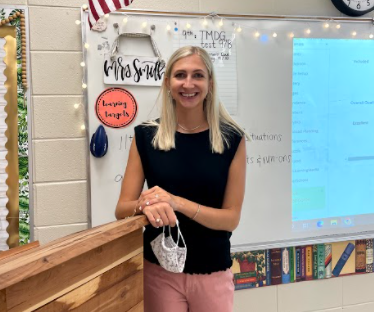 For the 2021 school year, Chelsea High School teacher Serra Smith took on a new challenge.
Smith began teaching Advanced Placement English Language and Composition, also known as AP Lang. This is Smith's first year teaching the course. It is a substantial change from teaching ninth grade Honors English. However, she now teaches both classes, guiding students through the new school year. 
Smith explained how she has adapted into teaching English through the requirements of the College Board
"It's been pretty easy," Smith said. "The College Board does an excellent job of outlining which skills need to be covered for each unit, so I know to plan my lessons around those skills."
This change has gone smoothly, but there are still challenges for Smith.
"For me the hardest part has been adapting to a new curriculum after teaching the same course for five years," she said.
Teaching two different grades adds variety to her everyday teaching.
"I am happy that I still get to teach ninth grade, too; teaching two preps changes things up during the day, which keeps me from getting bored," Smith said. "Having two different age groups also keeps things interesting."
To keep students interested in AP Lang, Smith adds variation to her teaching style.
"I'm trying to create a variety of activities so that it doesn't feel like we are doing the same thing everyday; it's hard to make everyone happy though, so what may be enjoyable to some may not be to others," she said. "My main goal is for students to leave my class feeling more confident in their writing abilities."
Students in AP Lang will be taking the AP Lang exam at the end of the year, and Smith's goal is to help the students succeed. 
"I like how AP Lang primarily explores non-fiction texts; it's a nice contrast to ninth grade, which mainly involves works of fiction," Smith said.
AP lang allows students to have a different experience from ninth and 10th grade English and she enjoys teaching both. However, she hasn't learned everything on her own.
"I went to a week-long training at the University of Alabama over the summer, and that was extremely helpful," Smith said. "I also stay in contact with the AP teachers in the other Shelby County schools, and they've proven to be a great resource."
As she gets advice from other teachers, Smith also has some advice for her students.
"Be responsible and check Schoology!"