A Time to Give Thanks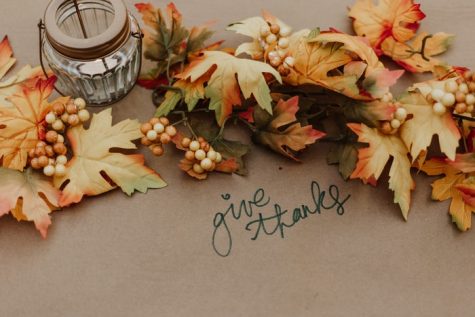 With Halloween gone, there's a new holiday favorite approaching, Thanksgiving!
Thanksgiving is all about great food, spending time with family, and realizing all things you have to be thankful for. According to CBS Local, Thanksgiving is ranked number 2 on favorite holidays. I personally love this time of year because I love helping making food, dressing warm, and sitting around a table with people I love. Just like others, I'm happy to be out of school, especially if it means I get to spend time with family instead.
When asked about her thoughts on Thanksgiving, Mckenzie Gunn responded by saying, " I love thanksgiving, it is a time where you can eat whatever you want." Her favorite part of Thanksgiving is eating the Cranberry sauce.
Evie Green said that Thanksgiving was her favorite holiday because she gets to spend time with her family and eat a lot of food. Her favorite Thanksgiving food is Sweet Potato Casserole.
Based on a poll created on Chelsea Buzz, the top favorite food to eat on Thanksgiving is Mac and Cheese!
My top five Thanksgiving foods are Cranberry Sauce, Ham, Mac and Cheese, Dressing, and Corn Bread. I can't wait until Thanksgiving Day, I've already marked my calendar!
What is your favorite food to eat during Thanksgiving?
Dressing/Stuffing (24%, 69 Votes)
Mac and Cheese (21%, 60 Votes)
Turkey/Ham (14%, 40 Votes)
Dessert (12%, 34 Votes)
Mashed Potatoes w/ gravy (11%, 32 Votes)
Sweet Potato Casserole (10%, 28 Votes)
Cornbread/Rolls (7%, 19 Votes)
Cranberry Sauce (3%, 9 Votes)
Total Voters: 291

Loading ...