Pink Out Game: How it Relates to Breast Cancer Awareness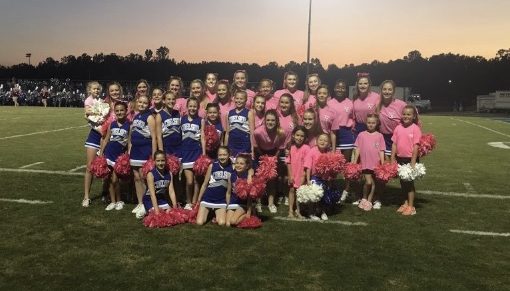 October 4th marked the annual Pink Out varsity football game. Through this game and pink colored clothing, the school spreads awareness of breast cancer and shows its support for Breast Cancer Awareness Month. Many people have heard and participated in this event, but they probably still have a few questions concerning it, like what is Breast Cancer Awareness Month, why does this charity event take place in October, why is pink worn, and why does the school put on a pink out game?
Breast Cancer Awareness Month (BCAM) is an annual international health campaign that takes place throughout every October from the 1st to the 31st. Put together by major breast cancer charities, BCAM's primary purpose is to increase awareness of the disease. This helps to raise funds for research into its cause, prevention, diagnosis, treatment, and cure. Furthermore, BCAM also aims to educate people on the importance of early screening and to help those affected by breast cancer.
"
The main reason behind performing the pink out game is to raise awareness for breast cancer.
BCAM was formed in October of 1985 by the American Cancer Society and the Imperial Chemical Industries in a joined partnership. Their primary goal was to promote medication and awareness for breast cancer to help people fight the disease. During the year of 1993, Senior Corporate Vice President of the Estée Lauder Companies, Evelyn Lauder, forged The Breast Cancer Research Foundation and represented it with the pink ribbon. People can wear fabric or any other piece of pink clothing to show their support for BCAM.
The main reason behind performing the pink out game is to raise awareness for breast cancer. Breast cancer is the most common cancer in all women and cancer itself is the second leading cause of death in the United States, second only to heart disease. This is why it's essential to show support and promote recognition of breast cancer, so the spread of this terrible disease can be stopped.
Below are five ways people can show support for breast cancer awareness:
Register for a walk/run. All the funding from events like Avon's Walk for Breast Cancer and Race for the Cure goes to breast cancer research and screening.

Volunteer for a Campaign, Fundraiser, or Event

Wear pink clothing (socks, shirts, bandannas, etc)

Talk about it. Encourage survivors to share their stories and put in their thoughts.

Wear a pink ribbon