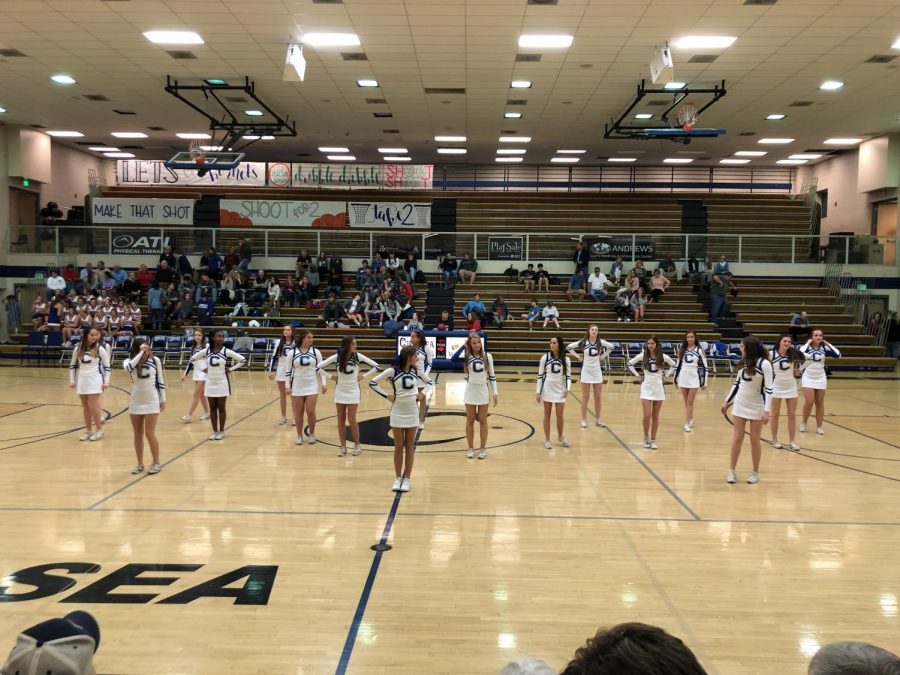 Friday, Nov. 2nd was the day the students of Chelsea High school said goodbye to football season. While this gives the football players a break and time to prepare for next year, there is no such rest for the cheerleaders. The very next week, the cheerleading squad had begun to prepare for the rapidly approaching basketball season.

Monday and Tuesday of the following week, the cheerleaders dove into basketball season. They cranked out a few signs (left) for basketball to be hung in the gym. In addition to that, they taught the new/freshman cheerleaders the basketball cheers.
The transition from basketball to football cheer is a pretty big shift in the cheerleaders' schedule.
Taylor Stafford, senior and captain of the cheer squad, says, "Cheering for the sports has more differences than similarities."
The first week alone, practice was extended to make time for the learning of the basketball cheers and preparing for halftime of the games. Along with that, since basketball games are much more frequent than football, the team is split in half (10 girls per team) so each girl only has to cheer 2 games each week.
Some girls are excited for basketball season and prefer it to football.
"I am a huge basketball fan, maybe even a little more than football, and the atmosphere of a basketball game is just something no other sport can compare to," Stafford states.
On that note, Madison Lawson, a junior cheerleader, adds, "I like basketball because you can actually watch the game while cheering at the same time."
Most of the other girls like basketball for the same reasons. Getting to sit, having shorter games, and being able to watch the game is much nicer than turning away from the game and having to jump around for several hours.
While many girls love basketball season, some miss football.
"I like the football sport better," Anna Grace Dunn, a sophomore cheerleader, says, "I feel like more people show up for football and it's more fun because we have pep rallies and homecoming week."
Another cheerleader, Kimberly Brown, a freshman, adds, "I prefer football season because of all the people in the stands and I like getting to watch band."
The first varsity basketball games took place Nov. 8th and the cheerleading squad, along with the rest of the student body, can't wait for more.