Blog: "The Mask"
Hang on for a minute...we're trying to find some more stories you might like.
So, we had another Socratic discussion, but this time, it was in English class. And by the way, I felt prepared for this one. However, at the moment, I had not been feeling so well. In the far back of my mind, I knew that I was feeling…well, off. I tried not to focus on it, but instead on what was in front of me. Being in that circle with those students really brought something to my eyes. We eventually got into the theme of isolation, and how it is good for no one, specifically for a long period of time. One guy said something which with I absolutely agreed. He said, "We're not meant to go through this life alone," as he went into saying how a group of support is essential to everyone. Then, I started to feel a bit convicted, which I believe I needed to feel.
I started thinking about how I am a part of support groups for others, but as for myself…yeah, that's where things don't always line up.
Here's an important question: How many times do we wear the mask?
I'm talking the mask that disguises reality, the mask that we may think looks better than what's behind it. The invisible mask, though those who wear it know it's there. I'm talking the mask that hides our pain, and keeps our brokenness from showing on the surface. The mask that keeps all within us, within us and, therefore, causes isolation. How often do we say "I'm fine" when we're really not? I've done that before. I'll be honest and say I've worn the mask, too, and many times.
And here's an even bigger question: Why do we wear the mask? Isn't out of fear the main reason, whether that be the fear of being viewed as weak, or the fear of our pride crippling, or the fear of possibly being hurt further? But something important to know is that it takes strength to take off the mask. It takes strength to be vulnerable. And showing pain isn't a sign of weakness, it's proof of being human. We all have days that don't go so well, but pity the one who goes through this life alone, the one without a group of support, the one without someone to pick them up when they fall down.
During that discussion, everything seemed different. The atmosphere felt different, for our desks were not arranged in rows, but in a circle.
"
We were together, and there's something about togetherness."
Wearing the mask will not take our pain away. It's whenever we remove it that we find freedom. And we'd be surprised to discover that others can relate to us. There's something about relation, which is another theme we discussed.
The next day, as I sat in the cafeteria in the morning, about 5 people came over and greeted me. And it was then when I noticed something. God had assured me that not only was I a part of many groups, but I, too, had a group of my own. Those people are in my life for a reason. I am not alone.
Do you have someone you can talk to, someone to whom you can take off the mask? And what is one way you can support someone who may need support? What does togetherness mean to you, if anything?

About the Writer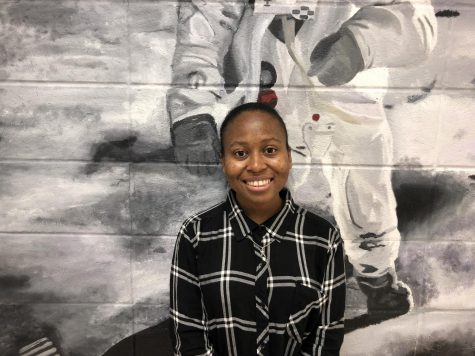 Keishace Jackson, Buzz News Reporter
Keishace is a senior at Chelsea High School. She is passionate about writing, drawing, and helping others when they are in need. When older Keishace would...