Blog: "On Purpose"
Hang on for a minute...we're trying to find some more stories you might like.
September 13th, 2018, is a day I will remember.
Several of us students were standing in the hallway, along with two teachers, outside of the cafeteria. We were waiting to load onto the bus, since we had a field trip to attend at a youth leadership conference. I realized there was a girl standing beside me. I didn't know her. She seemed kinda shy. So after a few minutes or so, I turned to my left and asked her kindly, "So what's your name?" She spoke softly, so I repeated her name, making sure I heard it correctly. We talked for a few minutes, until it was time to get onto the bus. I sat down first, and then she came and asked to sit beside me. Of course, I said sure.
I had the opportunity to get to know her further. She said she has seen me around many times, and could remember my face. Funny thing was that I could not recognize hers…until we made it back to school. I saw the way she quickly squirmed through the crowded hallway, and I remembered that I had, in fact, seen her around too. I learned a lot about her. She's into horseback riding, which she has been doing for 5 years. She told me that even though she's fallen off the horse a few times, she keeps going and learns from experience. Something about her seemed different. Every time she turned to face me, it was like she glowed. It wasn't her emotions. No, it wasn't her smile. It was just more like her entire face, literally. Almost like her skin. Maybe it was because of the sun.
I eventually asked if she attended church out here. She said she was going to be honest, admitting how she really wasn't into religion, going into further details of her stance. She then turned to me and said I seemed pretty religious to her, considering I am a part of FCA and First Priority. However, I went into saying that I don't really consider myself religious. I said it's because when I think about religion, I think about obligation, like feeling forced to have to do something. But that's not how it is for me. I told her I see it, as in Christianity, more as having a relationship with Jesus, and that how I don't go to church or read my Bible because I feel forced to, but rather because I want to. She agreed that relationship is, or at least should be, the focus instead of religion. She opened up about suffering from anxiety, yet she is brave and strong.
Once the conference was over and we were back on the bus, I asked her to rate her overall experience from 1 to 10. She said 3, but it was because she was dealing with personal stuff, which kept her from enjoying the trip. Intentionally and compassionately, I asked questions that would dig up her pain. I wanted for this girl who was carrying such a heavy load to just let it all out. We eventually came upon moments of blurred eyes, which were reached through vulnerability and connection.
"
I was starting to believe that the both of us were specifically chosen for this trip on purpose, and that this was where that "So what's your name?" was supposed to lead to all along."
Even through the pain, we were able to laugh and accept the fact that there is hope. I was thankful for this opportunity, and always will be. She thanked me for being there, but I thanked her instead…
A lot of times, we cannot tell what some people may be going through by just the looks on their faces. What is one way you can step out of your comfort zone to meet someone you've never met before? Is it possible you may discover a surprising struggle of that person? If so, how can you connect with them? You never know what a simple "So what's your name?" can lead to.

About the Writer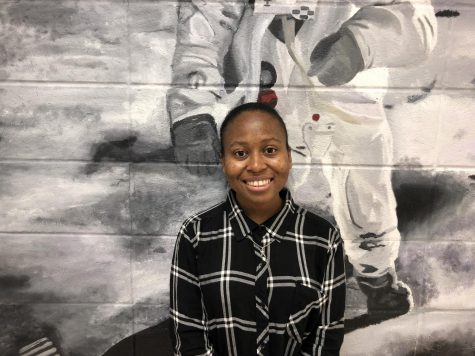 Keishace Jackson, Buzz News Reporter
Keishace is a senior at Chelsea High School. She is passionate about writing, drawing, and helping others when they are in need. When older Keishace would...