Blog: "There's More to Come"
Hang on for a minute...we're trying to find some more stories you might like.
A few days ago, I was waiting for the bus to come in the afternoon, facing the lunchroom windows, when a girl's voice spoke from behind me. She said hey in a friendly manner. I turned around and saw a familiar face, though I had not remembered her name. I eventually found it out, though. We asked a few questions back and forth. That's when she asked if I was a senior. I answered yes, and she said, "That must be exciting." My response with a laugh: "Not really!"
Most friends of mine are excited about graduating. Me on the other hand, to be honest, not so much. No, it has nothing to do with being worried about the future. It has nothing to do about uncertainty of what I'm going to do with the rest of my life. No, I'm not concerned about unexpected obstacles, or things that will be new for me. I'm not worried about that sort of stuff. Instead, it has everything to do with all of the people I will truly miss. All of the people I will no longer see on a day-to-day basis anymore.
"
The thought of moving on in life seems like I'm leaving them behind, especially those friends who are younger than me…that's what saddens me."
This is the reason I'm not ready to graduate yet. Yes, I know there will be more people to meet, with whom I will become friends. There'll be more times of laughter and more memories to be made. I know, I know that.
Over the summer, way before school was near, I told my Father how much I desired for senior year to be my year. I just knew this year would be completely different from any other school year, that it would be the best year. And in all honesty, so far, it truly has been. Never have I thought to meet all of the people I've met so far. Every single one of them, dear and close to my heart. I've been given opportunities after opportunities, and which I know there are even more to come. Senior year is unfolding, and will continue to unfold, some of the greatest moments of my life.
Am I excited about graduating? Let me go deeper into my response. I am excited to walk into the new chapters of life and all of what God has ahead of me, though at the same time, I know it breaks my heart to part ways with the people I've known, and even those I don't know. I'll miss them, too. Hopefully, it all won't be as heartbreaking as I think. Maybe we'll be able to make time to hang out, or at least FaceTime. At the end of the day, I know that what is waiting for me will always be more and better than what I will ever have to leave behind.
Ever came to a time when you knew you would have to give up something in exchange for something else greater? Did you expect that something greater? Did you even expect it to be greater?

About the Writer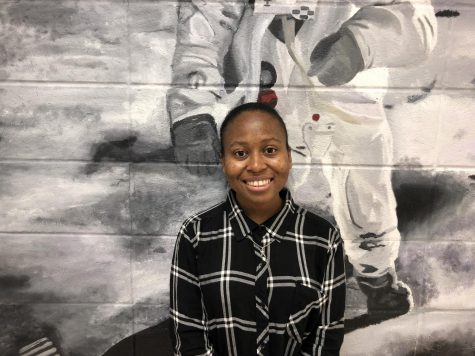 Keishace Jackson, Buzz News Reporter
Keishace is a senior at Chelsea High School. She is passionate about writing, drawing, and helping others when they are in need. When older Keishace would...